The most popular MSW program in Florida by number of graduates (233 graduates/year) is located at the University of Central Florida.
The most cost effective MSW degree program is offered by Florida International University, where the total MSW program tuition is $21,900, or $365/credit.
There are 18 MSW programs in Florida. Six are online MSW programs and 12 are traditional, campus-based programs.
In this guide
Online MSW program listings
MSW program listings in Florida
Social work degree programs in Florida
Based on our analysis of all 18 programs, the average cost of an MSW in Florida is $29,808, or $472 for the average 63-credit degree.
Our research shows that there is a cost difference between on-campus and online MSW programs in Florida. The average cost of an online MSW is $28,235, while the average cost of an on-campus MSW is $30,595. The most cost-effective online MSW program has a cost of $13,080, while the most cost-effective campus-based MSW program runs $17,856.
In addition to cost, this guide will walk through all of the considerations when looking into online MSW programs as well as traditional on-campus based options.
All Florida-based MSW programs offer an advanced standing program that enables BSW holders to graduate with an MSW in a shorter period of time. Furthermore, nearly every MSW program offers a part-time option.
MSW programs in Florida
BSW and MSW programs are offered at both public and private universities and colleges in Florida.
MSW programs in Florida incorporate both coursework and practical or clinical work hours. The latter is required for licensure, as fieldwork provides aspiring social workers with the hands-on experience needed to adequately take care of their patients/clients.
As required by the Council on Social Work Education (CSWE), Florida social work programs are required to provide an introduction to generalist practice, standard course offerings including research and social policy courses, as well as human behavior courses.
All courses, including advanced electives, must meet an adequate level of rigor and provide the most up-to-date instruction in modern social work practice.
CSWE-accredited MSW programs will include:
Generalized social work coursework covers clinical setting practices and writing, social work ethics and policies, social work research practices, an introduction to assessment and diagnosis, conflict management and resolution, and more.
Some MSW programs will also include specialized coursework if the program in question allows a student to focus on a particular area in the social work field. A number of specializations are offered by Florida-based MSW programs including advanced clinical practice, trauma, and program evaluation.
MSW programs also almost always include clinical experience opportunities or requirements. These require students to head to a nearby clinical setting and practice social work under the guidance or observation of a licensed professional. In most cases, these MSW programs also include enough clinical hours so that a graduate automatically qualifies for the licensure test.
Most MSW programs will also include opportunities for students to take electives to round out their education or focus even further on a particular field.
Several Florida based MSW programs also offer dual degree programs including in public health or criminal justice.
Florida based MSW programs also offer certificate programs for current students or professionals already working in the field. For example, four MSW schools offer a certificate in child welfare while three offer a certificate in gerontological social work.
Common MSW specialities in Florida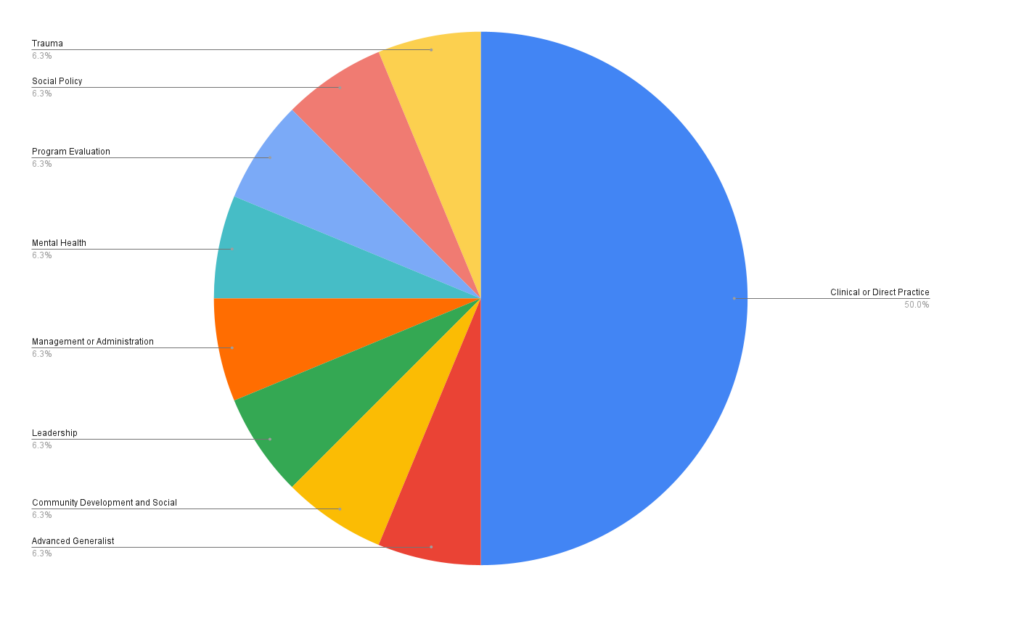 The chart above illustrates the different specializations a student can take when getting an MSW degree here in Florida. For most students in this state, they choose to specialize in clinical or direct practice, while the rest are split evenly amongst the other specialties such as mental health, trauma, and program evaluation.
Although the MSW degree does not change, having a specialty in a specific area of social work can give a student invaluable experience that can benefit their future career. For example, Barry University, located in Miami, places a significant emphasis on social justice and offers a specialization in trauma. The Center for Human Rights and Social Justice at this university focuses on combating human trafficking, preventing sexual victimization, creating inclusive communities, advancing trauma informed research, education and practice, and promoting wellness in marginalized communities. Students have an opportunity to work with faculty on various projects at the center.
Florida Gulf Coast University offers a certificate in medical social work for MSW holders. The certificate can be completed online and requires 12 credits. If those enrolled in the program have already completed a required course, the credits may be transferred. Social workers enrolled in the program must maintain a 3.0 GPA to earn the certificate.
Online MSW programs in Florida
Aspiring social workers in Florida may choose to enroll in an online MSW program. Online MSW programs are functionally identical to their in-person counterparts when it comes to the actual coursework. Online students interested in going into clinical social work are still required to complete the specified number of clinical practice hours to graduate and qualify for licensure.
Online students can complete clinical fieldwork hours close to home if the main campus that houses the online program is not local. Non-clinical fieldwork opportunities include working at a policy, research, or advocacy organization, or a government agency. A limited number of non-clinical field placements may even be available online.
Online programs can be beneficial as many are offered part-time and in flexible formats. For example, some online part-time programs may be completed over more than two years, while campus based programs may have more strict time limitations for completing a program:
Online Florida social work programs vary:
Florida universities may offer in-person and online versions of the same program. The Florida State University program is an example of this. Their online program includes a clinically focused licensure pathway and part-time scheduling option for busy professionals.
Florida based students could opt to enroll in an online MSW program offered by a school outside of Florida. This may be a great option if you believe a program outside of Florida is the best fit for you. You can still complete your fieldwork at a nearby agency, hospital, or other setting.
Some additional examples of online Florida MSWs include:
The University of Central Florida's online program can be pursued in either part-time or part-time advanced standing (for BSW holders) formats.
The University of South Florida provides a full-time online program option, with part-time and advanced standing options as well. It emphasizes the clinical components of social work.
It is important to note that even though a student may be taking classes from the comfort of their home, the supports that are offered to on-campus students are generally no different from those available to online students. For example, the University of South Florida has numerous community partners throughout the state where students can complete their fieldwork or get involved in programs. For example, even though the school is located in Tampa, they have a partnership with Youth Services in Orange county which is closer to, and includes, Orlando.
Additionally, USF has many research opportunities available to its students and two research labs that students can join. The school encourages all students to reach out to the principal investigators if interested.
Advanced standing MSW programs in Florida
An advanced standing degree is an opportunity provided by a majority of programs that allows students who hold a CSWE accredited baccalaureate degree in social work to bypass some of the general classes associated with an MSW degree decreasing the amount of time required to complete the MSW shorter. In Florida, there are six online advanced standing programs and six in-person programs.
Most advanced standing programs require fewer credits to complete the degree. For example, the University of West Florida accepts students into the advanced standing program if they have a CSWE accredited bachelor's degree in social work and a GPA of 3.0 or higher. Furthermore, the BSW must have been completed within the last 7 years. The program requires 30 credits and 600 clinical hours and is usually completed in two semesters.
Social work dual-degree programs in Florida
Another educational option available to MSW students is to pursue a dual-degree. Combining another professional discipline with social work is a great idea because it allows students to combine a social work education with learning from another discipline. For example, a student who earns a dual degree in criminal justice and social work will understand how to engage in a person-centered approach to working with incarcerated individuals or those on parole.
There are two MSW and public health programs available in Florida, two MSW and law programs available, as well as one program each for MSW and MBA, MSW and criminal justice, and MSW and public administration (see the program listings for more details).
Florida State University social work students interested in work in family law, public policy, child and domestic violence advocacy, or public defense can obtain an MSW and a JD. Both degrees are pursued concurrently on the traditional track taking students four years to graduate with a total of 136 credit hours. Advanced standing programs are offered within this dual degree track, but only at their Tallahassee campus.
Another dual program is offered by the University of South Florida. Students can earn a Masters in Public Health (MPH) and MSW concurrently. This program is best for students who wish to get a more specialized education in public health to work more effectively with clients in medical or public health settings.
How to become a social worker in Florida
Social work licensing requirements vary from state to state. These are Florida's requirements according to the Florida Board of Clinical Social Work, Marriage & Family Therapy, and Mental Health Counseling:
Complete a master's degree in social work from a CSWE accredited program that has at least 24 credit hours in theory of human behavior and practice methods as courses in clinically oriented services, including a minimum of one course in psychopathology.
A university official must provide a letter stating that the applicant completed their practicum
Complete the required post-masters experience that includes two years of supervised clinical experience under the direct supervision of a LCSW. These years must include 1,500 hours of face-to-face psychotherapy or clinical experience with patients, and at least 100 hours of direct supervision in no less than 100 weeks.
Pass the ASWB examination.
Complete all supplemental coursework such as a domestic violence course, HIV/AIDS training and a laws and ethics course.
Submit all documents and finish paying the $180.00 total fee for licensure including the $100 for the provisional license.
Note that Florida requires all licensed social workers to take 30 hours of continuing education credits within six years of obtaining licensure. Four of these might be administrative hours.
Certified Master Social Worker (CMSW)
This social worker has a degree emphasizing clinical practice and administration. However, this type of social worker doesn't have licensure to provide clinical services. In addition to an MSW, you'll also need three credits of coursework in eight different social work subject areas. Here are all the steps:
Finish three years of supervised and nonclinical social work experience. Of the required hours, 2 years must be earned after obtaining your master's degree with supervision from someone who has an MSW or LCSW.
Submit an application for a CMSW license, complete the form, and return it to the licensing board with a $205 application and license fee
Complete the ASWB (Association of Social Work Boards) advanced generalist exam; this contains 170 multiple-choice questions and costs and $260
Receive your CMSW license
Licensed Clinical Social Worker (LCSW)
Obtaining an LCSW is the de facto choice for most social workers, as it allows you to practice in a clinical setting or run your own social work clinic. It requires 24 additional credits that cover clinically oriented human behavior and social work practicing methods, and the MSW program has to include a clinical practicum section. Follow these steps to become an LCSW:
Finish two years of supervised clinical social work experience. Of the required hours, 1,500 must be direct clinical work with clients, and 100 hours of those have to be under face-to-face supervision. These hours must be completed over a minimum of 18 months.
Finish any required additional courses. In Florida, these are three supplemental courses on social work rules and laws, HIV and AIDS, and domestic violence
Submit your application for an LCSW license to the board, and pay the $180 application and licensing fees
Complete the ASWB clinical exam, which costs $260
Social work in Florida
There are many opportunities to complete a bachelor's or master's degree in social work in Florida, or an online MSW degree based at one of the many colleges and universities located in the Sunshine State.
Florida currently has over 22 million residents and is the fastest growing state in the nation.
One in five Floridians is an immigrant according to the American Immigration Council. Some of the largest immigrant communities in Florida are made up of citizens and residents originally from Cuba, Haiti, Colombia, and Mexico.
Social workers interested in working with immigrants will find plentiful opportunities in Florida to work in schools, community organizations, and mental health agencies that specialize in serving immigrants.
Florida also is famously a top destination for snowbirds and retirees from all parts of the country. Gerontological social workers are especially in demand in Florida to work with elderly immigrants, in healthcare and hospital settings, and in senior communities and centers. Other interesting opportunities include working in child/senior daycare programs or senior recreation programs.
Frequently asked questions about MSW programs in Florida
What can I do with an MSW degree in Florida? 
There are many options available to those who obtain an MSW in Florida. Although the most common career involves working in a clinical setting, many other social workers decide not to follow a clinical track. Some other options include administration, management, sales, business and policy/advocacy, which are all available specializations in Florida.
What are the main differences between an online MSW and a traditional MSW program?
Flexibility is the main difference between the two degrees. Online and traditional programs may be functionally identical in terms of credits required, courses, and specializations and the main difference is that online students do not have to drive to campus to attend class. But there are more differences between the two programs at other schools such as greater flexibility in scheduling, more time to earn the degree, and more field work options within the online program.
Do online MSW programs in Florida offer online field placements?
It is possible to obtain a field placement virtually, however, availability depends on the placement office at each university and questions regarding field placement format should be directed to them. Local field placements not in the vicinity of the main campus will need to be visited and approved by the fieldwork director. All clinical field work will need to be supervised by a licensed social worker.  

How do MSW dual-degree programs work? 
Dual degree programs allow students to complete an MSW concurrently with another degree of their choice. Each program will have a different set of admissions guidelines. For example, at Florida State University, in order to obtain an MSW/JD, a student must apply and be accepted into both the JD and MSW programs, then fill out a dual degree application.
What is an MSW advanced standing program?
Advanced standing programs allow students with prior educational experience in social work to bypass some of the general education requirements at the start of an MSW. This decreases the amount of time it takes to obtain an MSW while still being able to select from an array of advanced course options and obtain a quality, well-rounded education. 

Are there any differences between online and on-campus advanced standing degrees? 
No! Online and traditional programs have to meet the same educational requirements if they are accredited by the CSWE. Therefore, the only difference between the two programs is the modality in which classes are taught.
How many social work programs are available in Florida?
There are a total of 26 accredited social work programs in Florida – 14 at the bachelor's level and 12 at the master's level. Of these 26 programs, there is one online BSW program and six online MSW programs. It is important to note that there is one additional program that is in the pre-candidacy stage, according to the CSWE website, that is not included in these numbers.
How long after graduating does it take to become a fully licensed clinical social worker in Florida?
Approximately two years. A master's of social work graduate needs to complete a minimum of 18 months of supervised clinical experience including 1,500 direct clinical hours. 

What is the job outlook for those who obtain an MSW in Florida?
The overall employment of social workers across the country is supposed to grow by 12 percent over the next eight years.

Is CSWE accreditation important?
Yes! In order to obtain licensure in Florida a social worker must have earned their MSW from a CSWE accredited program to ensure a student received a rigorous social work education that included all of the required foundational coursework and fieldwork hours needed to become a competent social worker.

How much does an MSW degree cost in Florida?
Based on our analysis of the 18 MSW programs available in Florida, the average cost of an MSW is $29,808. The average cost on an online MSW is $28,235, while the average cost of an on-campus MSW program is $30,595. The most cost-effective online MSW program in Florida has a price of $13,080.
Career advice
Find the latest social work career advice from people working directly in the field in Florida. Learn more about all the different pathways and opportunities available in social work today.
What are the most important factors for students deciding on an MSW program in Florida?

What are the challenges or opportunities for becoming a social worker in Florida?

What does the future of social work look like in Florida?

What types of jobs are MSW graduates finding in Florida?

Do you have advice or guidance for MSW graduates pursuing a license in Florida? 
---
---