Based on the number of yearly graduates, The University of Texas, Arlington, has the most popular MSW program in Texas.
But Stephen F Austin State University has the most cost-effective MSW program in Texas with a total tuition of $19,860 or $331 per credit.
There are 12 online MSW programs in the state.
In this guide
MSW programs in Texas
As is the case with most clinical social work positions across the country, the majority of Texas social work positions also require a master's of social work (MSW).
The MSW is a professional degree that combines both academic or classwork experience with clinical or fieldwork experience. Upon graduating, aspiring social workers will be eligible for licensing examinations so long as they've completed a set number of clinical hours.
The actual classes, hours, and other inclusions within an MSW program can vary from university to university. There are no standardized course offerings, although general curriculums will be relatively similar to one another.
This is because all MSW programs need to prepare a student for social work licensure, which carries with it set requirements. Accredited MSW programs typically include:
General coursework: These courses cover a variety of social work topics including human development, micro practice, macro practice, ethics, social work policy and advocacy, statistics and research methods.
Specialized coursework: Specialized courses are most often included with MSW programs that allow aspiring social workers to focus on a particular field of social work. For instance, students may take dedicated classes that enable them to become a child, family and school social worker.
Field education: All MSW programs will include hands-on clinical experience requirements. These generally average between 600 to 1,000 hours of work over the course of a two-year standard MSW program. Field education placements can be completed in two different settings (one for each year of the program), allowing students the opportunity to explore different agencies and populations to determine where they'd most like to work after graduation.
Electives: All MSW programs include elective credits for students to further specialize their areas of study. While most students complete electives within the school of social work, some take classes from other university departments such as public health as their electives.
MSW program listings in Texas
Online MSW programs in Texas
There are also plenty of online MSW programs that will allow you to get your degree while working a job or managing other obligations. Online MSW programs are just as rigorous as in-person programs, and must go through the same process to be accredited by the Council on Social Work Education (CSWE).
Online courses can be offered synchronously, which means everyone in the class logs on at the same time to listen to the lecture and discuss with each other in real time, or asynchronously, meaning that students log into the course platform at their convenience, watch a pre-recorded lecture and complete the assignments including discussion board posts with their classmates on their own schedule.
Online MSW programs in Texas still require a field education component, but you'll likely be able to log these clinical hours at an agency in your local community. Many field education offices have connections with social work settings across the nation to accommodate students no matter where they live. In some instances, students already working in social work can complete their field education hours at the agency where they are employed, though the work done for field education must be different from their paid job duties.
Many online MSW programs have longer program completion windows — sometimes courses can be taken part time over three or four years instead of the typical full time, one to two year timeframe. This flexibility makes online MSW programs more appealing and accommodating to students with full time jobs, families or other obligations.
These Texas online MSW programs exist in three general formats or options.
Traditional Texas-based schools that have an online component. These programs, like the University of Houston or Texas State University, offer online programs with full-time and part-time options. However, since some schools like the University of Houston do not have online education agreements with all states, this means some out-of-state students would not be eligible for admission. It is important to check your eligibility for a specific program before beginning the application process.
Colleges and universities outside of the state that admit students from Texas. There are a number of really good options that fit this category, ranging from top-tier MSW programs to popular state schools. The key part of finding the right fit is to first confirm that students from Texas are eligible for out-of-state online programs.
Hybrid programs are offered at the University of Texas, Arlington and the University of Houston. Hybrid MSW programs in Texas require some on-campus time (usually 30 to 50 percent of the coursework is completed in-person) and some online learning. Increasingly, hybrid programs are offering more flexibility, like evening or weekend classes to work around busy student schedules.
Whether you live in Texas and want to attend an in-state school fully online, are an out-of-state student interested in attending a Texas school online, or would be best served by a hybrid program, you are sure to find a Texas MSW program for you.
Online MSW program listings in Texas
Common MSW specialities
MSW students in Texas are able to select from a number of social work specializations, depending upon the offerings of the school they're attending. Indeed, many students select an MSW program based on the area in which they believe they'd like to specialize.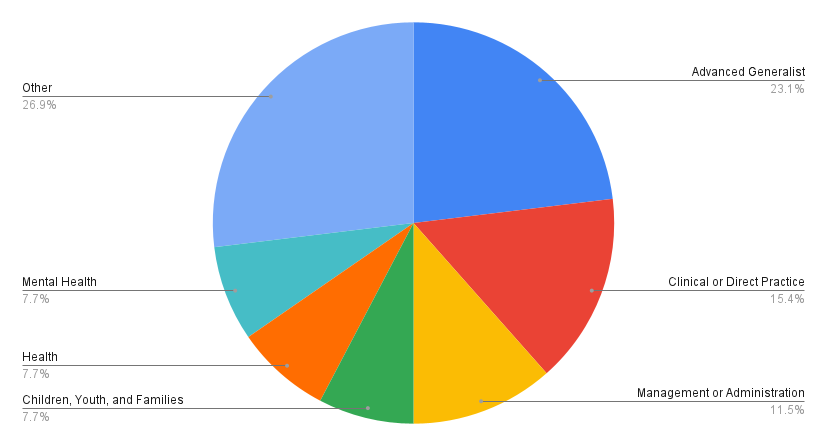 Almost a quarter of Texas MSW students are advanced generalists, which means they receive training in both working at a micro level (directly with clients) and at a macro level (addressing injustice at a community, state, or national level). Other specialties include:
Clinical/Direct practice – this is for students wanting to work directly with clients, perhaps even becoming licensed and opening up their own therapy practice.
Management/Administration – this is for students wanting to have leadership roles in nonprofit or community organizations
Children, Youth and Families is the specialization for most students interested in working with child protective services or as a school social worker.
Health is a broad specialization that prepares graduates to work in settings from community health clinics to hospitals to outpatient dialysis centers and everything in between.
Mental Health specializations prepare students to work in settings such as mental health clinics, inpatient psychiatric hospitals, and community organizations. Some schools, such as the University of Texas, Arlington offer a specialization in Mental Health and Substance Misuse, preparing students to work in various rehabilitation programs or dual diagnosis programs.
Almost 27 percent of MSW students in Texas specialize or concentrate in areas other than what have been previously discussed. Some of these other specializations and an example of a school that offers this area of focus include:
Baylor University:

Diversity
Gerontology
Congregational social work
Trauma

Our Lady of the Lake University:

Direct practice with Hispanic children and families

Stephen F. Austin University:
Learn more about MSW programs in the Houston area in this comprehensive guide.
Advanced standing MSW programs in Texas
Students who have already earned a BSW degree from an accredited school of social work are eligible to apply for advanced standing. This allows BSW graduates to skip some of the foundational level courses within the MSW program (because this content was already covered during their BSW courses). Advanced standing students are thus able to complete their MSW degree in a shorter amount of time, typically one year, if attending full time.
For example, Texas A&M University Kingsville accepts a student into the advanced standing program if they have completed their BSW from a CSWE-accredited program within the previous 7 years, and have an undergraduate GPA of 3.2. Advanced standing students earn their MSW in three semesters (one calendar year) of full-time study.
Texas State offers advanced standing to both their traditional and online students. Online advanced standing students can attend classes part-time or full-time to complete their degree.
Advanced standing students are able to complete the same specializations or concentrations that traditional students complete. Thus, it makes sense for undergraduate students to earn a BSW if they already know they want to eventually earn an MSW, as having advanced standing status will save both time and money in completing the graduate degree, and allow the graduate to enter the workforce earlier than if they were a traditional student.
According to CSWE, nineteen schools of social work in Texas offer advanced standing. These programs are:
Online only:
University of Texas-Rio Grande Valley
On-campus:
Abilene Christian University
Tarleton State University
Texas Christian University
Texas Tech University
Texas Woman's University & University of North Texas Collaborative
University of Texas at Austin
University of Texas at El Paso
University of Texas at San Antonio
Both online and on-campus:
Angelo State University
Baylor University
Our Lady of the Lake University
Stephen F. Austin University
Texas A&M Commerce
Texas A&M Kingsville
Texas State University
University of Houston
University of Texas at Arlington
West Texas A&M University
Social work dual-degree programs in Texas
Another educational option available to MSW students is to pursue a dual-degree. Combining another professional discipline with social work is a great idea because it not only teaches you to see the world from a different academic perspective, but it opens the doors to even more job opportunities and settings in which you can make a true difference in the lives of others.
Six schools in Texas offer at least one dual degree program, and a total of 9 different dual degree options are offered in Texas. Here are examples of the kinds of dual degrees available for social work students in Texas and examples of career paths for graduates.
Three schools offer MSW/MBA (Master of Business Administration) dual degrees. Graduates of these programs are prepared for careers in organizational development or nonprofit management, to name a few.
Three programs offer MSW/MPH (Master of Public Health) dual degrees. Graduates can go on to work as policy analysts, researchers and hospital administrators.
Theology is another popular dual degree option at Texas schools. Graduates of MSW/MIT (Master in Theology) or MTS (Master of Theological Studies) dual degree programs often serve clients within religious organizations or congregations.
MSW/MPA (Master of Public Administration) graduates work in positions of management and leadership, often as social service agency administrators.
Public Policy is another degree offered along with MSW degrees. MSW/MPP students work in social welfare policy.
Social Work is a field that blends well with criminal justice, and MSW/MCJ dual degree graduates thoroughly understand the criminal justice system and the policies that influence the field of corrections. Graduates can work in diversion programs, within correctional facilities or with inmates after release to prevent recidivism.
A law dual degree (MSW/JD) is offered at the University of Texas at Austin. Graduates of this dual degree program have deep knowledge of social justice and experience in client advocacy.
MSW/MAPS (Master of Arts in Pastoral Studies) graduates typically provide pastoral counseling within religious organizations or faith-based settings, or serve as a chaplain within a hospital or other care setting.
MSW/MUP (Master of Urban Planning) students consider and address social service issues from both planning and direct service perspectives.
Important to note is that most dual degree programs require admission to both the school's MSW program and the other professional program. Just because an applicant is accepted into one program and is interested in a dual degree offering, this does not mean they are automatically accepted into the other program. In order to graduate, students must complete all requirements from both programs, including internships and field education placements.
Completing a dual degree program requires a lot of planning. Often electives from one program can fulfill some requirements for the other, but this is not always the case. Students will need to work closely with the coordinator of the dual degree program to ensure classes are taken in the right order and at the proper times to meet all requirements and graduate in a reasonable amount of time.
How to become a social worker in Texas
Texas offers a series of licensed social worker pathways depending on your educational level and your desired career. In general, social work licenses with higher requirements lead to better pay and positions with more responsibility.
There are three types of masters-level educated licensed social workers in Texas: Licensed Master Social Worker (LMSW), Licensed Master Social Worker-Advanced Practitioner (LMSW-AP), and Licensed Clinical Social Worker (LCSW).
MSW graduates from accredited programs in Texas are eligible to sit for the Texas licensing exam to become an LMSW. Graduates are well-prepared for the exam by completing a rigorous MSW program, and many are successful in their attempts to pass the exam. In 2018, 100 percent of Tarleton University's MSW graduate students that took the licensing exam passed on their first try.
LMSW and LMSW-AP licenses do not require supervised clinical experience, but also do not let you practice independently in a clinical setting. Thus, your career options are much more limited.
Steps need to become a licensed master social worker
Obtain an MSW and obtained transcripts verifying the program's completion
Take the online jurisprudence exam
Complete the application for social work licensing in Texas along with all of the necessary verification
Submit to a criminal history evaluation and fingerprinting
Take and pass the ASWB masters exam
The LMSW-AP is the highest level non-clinical social worker in Texas. Steps needed to become a Licensed Master Social Worker – Advanced Practice include:
Become an LMSW
Complete at least 3,000 hours of supervised work and 100 hours of supervision.
Submit your application for an upgrade to your social work license
Complete the ASWB Advanced Generalist exam
Licensed clinical social worker
The LCSW designation is required if you want to work in private practice or provide direct clinical interventions. The LCSW is the highest social worker credential in Texas. Steps to become an LCSW include: is last social worker pathway is the only path if you want to work as a social worker in a clinical context. You must have an MSW from an institution already accredited by the CSWE or Council on Social Work Education. After obtaining this certification, you can practice independently.
Earn an MSW from a CSWE-accredited institution.
Complete at least 3,000 hours of clinical work, 100 of which are supervised by a Board-approved LCSW, over the course of 24 to 40 months.
Submit an application to upgrade your licensure.
Pass the ASWB Clinical exam: this is the most advanced form of the exam. Applicants can take the test multiple times but must wait a 90-day period between each attempt. All candidates must achieve a passing score of 70 to qualify for licensing.
Note that you will need to renew your license by taking the exam again and/or fulfilling additional requirements if you want to practice social work in another state. You'll also need to retest or take up-to-date classes reflecting new social work practices every few years to keep your license over the long term. Current (2023) renewal requirements include 30 hours of continuing education to include six hours in ethics and social work values every two years.
Frequently asked questions about MSW programs in Texas
What can I do with an MSW degree in Texas?
here are multiple options available to those who earn an MSW in Texas. In addition to working in a clinical setting, many graduates work in policy or administration. Since much of Texas is rural and has a high Hispanic/Latino and/or immigrant population, social workers with knowledge and training in working with these populations are in great demand.
How is an online MSW different from a traditional campus MSW program?
The biggest differences between these two types of degrees are the setting, the format and the flexibility.  Traditional students go to campus to learn in real time from instructors. The course schedule is very regimented, with little to no flexibility. Online MSW students can attend courses around their other life commitments, may take fewer courses per semester if attending just part-time, and may have additional time to complete their degree.
How do MSW dual-degree programs work?
Students interested in earning another masters degree along with their MSW can apply for acceptance into a dual-degree program. Applicants must meet the admission requirements for each program, and understand that acceptance into one program does not automatically mean they will be accepted into the other program. Courses are taken within each program, and all requirements for both programs must be met before being allowed to graduate.
Is advanced standing only available to traditional on-campus students?
No. Both online and on-campus programs offer advanced standing status to qualified students. Each school has different admissions requirements for advanced standing, so be sure to thoroughly review each set of requirements before applying.